Waiting in bed wearing just a thong, Rebecca Volpetti enjoys the sight of Veronica Leal undressing. As Veronica puts on a show, Rebecca slips her hand into her panties to start rubbing her pussy. Once Veronica is nude, she joins Rebecca in bed to take over where Rebecca's fingers left off. Peeling off Rebecca's underwear, Veronica makes herself at home between her girlfriend's thighs to enjoy a pussy feast.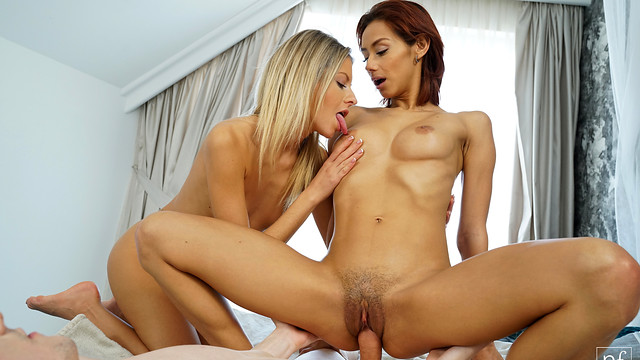 Veronica is an expert with her fingers as she crawls back up Rebecca's body. With that dedicated attention, Rebecca is soon moaning with pure need. She moves to her belly to change up the angle of Veronica's pussy pounding. Just as Rebecca is about to explode, she opens her eyes to see Sam Bourne watching them in action. With a sultry smile, Rebecca beckons for him to join in on the fun.
The girls welcome Sam into their threesome by helping him out of his clothes. Rebecca takes the lead sucking Sam's cock, happily giving way to Veronica when it's the redhead's turn. Working together, the girls deliver a double BJ with plenty of ball sucking while each taking breaks to ensure that the other is still nice and wet and ready to party.
With Sam on his back, Veronica and Rebecca are able to take advantage of the position. Rebecca helps Veronica onto Sam's stiffie first. Holding her girlfriend in place as Veronica bounces away on her hardon, Rebecca fondles Veronica's breasts and rubs her clit to ensure that the redhead is soon gasping her delight.

Once Veronica has come apart, she winds up on her back with Rebecca fingering and feasting on her twat. Since Rebecca is conveniently on her hands and knees as she peppers attention on Veronica, she's nice and open for Sam to come into her from behind and deliver a proper pussy pounding. Muffling her moans of delight in Veronica's snatch, Rebecca enjoys giving as well as receiving absolute pleasure.
Rebecca gets to continue her fun with Sam's fuck stick as he lays on his back and pulls her on top of it. Temporarily sated, Veronica laps at Sam's cock between Rebecca's strokes, licking her girlfriend's juices off the man meat. Eventually, she relocates to Sam's mouth so she can ride his tongue as Rebecca keeps riding his cock.
Falling onto her back with her legs spread wide, Veronica welcomes Sam back inside for a final coupling. He gives it to her hard, pounding away until he's about to jizz. Rebecca helps him pull out at the last moment so he blows his load all over Veronica's snatch. Licking up a big dollop, Rebecca snowballs her treat with Veronica so they can both enjoy Sam's salty love.
CLICK HERE FOR INSTANT ACCESS