Dressed to impress in stunning lingerie, Rebecca Volpetti struts onto the scene! Matt Denae is waiting for Rachel in bed, and when she arrives he just can't believe his eyes. He's a lucky man to have such a hot number all dolled up and ready to have a good time with him.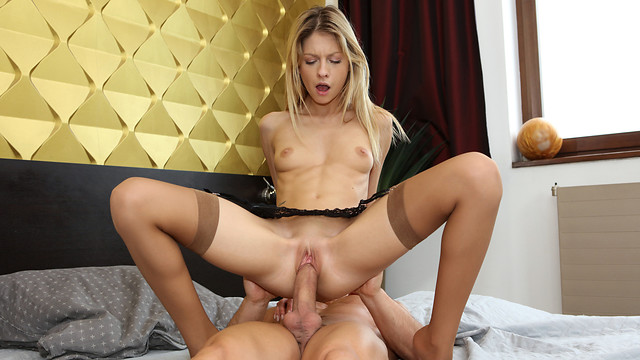 Coming in for a kiss, Rebecca caresses her hand over Matt's cheek. That hand reaches steadily lower, fondling his chest and then lower still. When she reaches her goal, she pulls Matt's hardon out of his briefs and then dips her head low to take him between her soft lips. Stroking and sucking at the same time, Rebecca makes sure that Matt has plenty of stimulation to get him hard as a rock.
Curling up in Matt's arms, Rebecca slides her thong aside and cuddles close. He wraps his arms around her and takes her up on her invitation to come inside. Sliding deep, Matt gives Rachel the spooning sex that she so craves. As Rebecca fills the room with her sweet moans, Matt rolls her over and laps at her juices, cleaning her up for round two.

Rebecca finds herself on her belly with her panties shoved to the side and Matt buried inside her. After enjoying a doggy style pussy pounding, Rebecca sucks her juices off Matt's fuck stick. Then she rolls him onto his back so she can hop onto that hard cock and go for a stiffie ride in her bare pussy.
Rolling onto her back, Rebecca spreads her thighs wide to welcome Matt back inside. He goes deep, pounding away at that greedy snatch. He pulls out only at the last moment, leaving the tight glove of Rebecca's fuck hole to blow his load all over her stomach.CLICK HERE FOR INSTANT ACCESS