Tiffany Tatum is in the mood as she runs her hands over her smooth legs and then unties her robe. Caressing her breasts and palming her hardening nipples, she continues to warm herself up. When her hand slides to her meaty twat and finds it nice and wet, she focuses her attention on her clit. That's not quite enough for Tiffany, though. Eventually, she reaches for her vibrating toy and uses that to really work her passion to a fever pitch.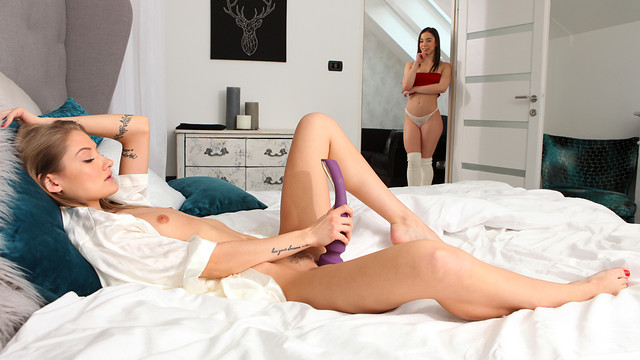 Anastasia Brokelyn happens to be walking past the bedroom when she lays eyes on her girlfriend in mid-masturbation. She hesitates a moment as she feasts her eyes on Tiffany's show, then wanders into the bedroom and climbs onto the bed. Anastasia's lips lock with Tiffany's for a moment as both girls get reacquainted with one another's bodies. Then she works her way slowly south until she is settled between Tiffany's thighs.
Gently spreading Tiffany's legs open, Anastasia makes herself at home. She flicks her tongue out to tease Tiffany's clit. Finding her girlfriend's snatch nice and wet, Anastasia brings her hand up to slide two fingers deep inside Tiffany's sheath. Closing her eyes and enjoying the ride, Tiffany draws her legs even further apart as she uses her arms to keep them apart.
Anastasia isn't done with her seduction yet. She eventually grabs Tiffany's discarded vibrator and then rearranges her position so that she is cradling Tiffany's upper body in her arms. This new position makes it easy for Anastasia to press the toy to Tiffany's pussy while capturing her lips in another kiss. When Tiffany finally reaches that peak, her moans are lie sweet music to Anastasia's ears.

The girls change things up as Anastasia gets on her hands and knees with Tiffany kneeling behind her. After enjoying the view of Anastasia's round rump, Tiffany dives in with her mouth and fingers working in tandem for Anastasia's pleasure. After a thorough pussy licking that goes up to tantalize Anastasia's anus, Tiffany turns her girlfriend onto her back so she can get really serious.
Anastasia's twat easily takes two of Tiffany's fingers pushed knuckle deep inside. As Anastasia draws her knees to her shoulders to open herself up, Tiffany finds a new toy. She shoves the dildo deep into Anastasia's greedy fuck hole, fulfilling her in the most primal way possible.
The girls have each enjoyed a climax, but neither one of them is done quite yet. Falling backwards into the bed, Tiffany lays down and draws Anastasia on top of her. The girlfriends settle in for a lesbian 69 with Anastasia on top. They enjoy a mutual pussy feast that leaves both girls panting in the aftermath of their explosive ecstasy.
CLICK HERE FOR INSTANT ACCESS