Natasha Starr and Scarlet Red are hanging out on the bed watching a sex tape that they made, which makes them understandably horny. Soon the tape is a forgotten bonus as the girls start to make out with orgasmic intentions.
Peeling Natasha's panties off with her teeth, Scarlet reveals her lover's nicely trimmed pussy. Natasha soon follows suit so that the girls can indulge in some mutual masturbation. While they are fondling each other's juicy clits, they are joined by Aaron Wilcoxxx who is happy to play stud to two lovely fillies.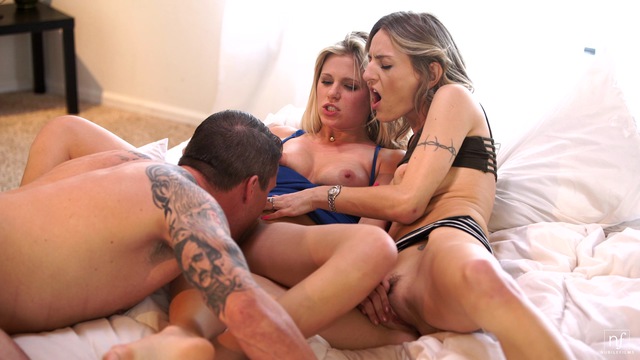 Settling in for a pussy feast in Natasha's creamy snatch, Aaron goes to work with his magic tongue. Scarlet gets a twat licking, too, when she climbs onto Natasha's face and positions her fuck hole right above Natasha's mouth.
The two girls aren't about to let Aaron do all the work with his mouth. Switching things up, they lay him down on the bed and take turns using their lush lips to wrap around his rock hard shaft in a double blowjob that gets him harder than ever! Soon he's hard as a rock and ready to be Natasha's personal fuck toy as she slides down onto his stiffie for a bouncing cowgirl ride.
Not to feel left out, Scarlet climbs onto Aaron's mouth to get her snatch laved by his talented tongue. When it's finally her turn with her man's dick she gets down on her hands and knees and lifts her ass into the air to open herself up for a doggy style pussy pounding that leaves her moaning her ecstasy.
Soon the girls are alternating places on the bed, each of them lifting their perky asses in a silent request to be fucked as hard and fast as Aaron wants. When they have each had the climax they need, they change things up again so that Scarlet is on her back with Natasha's dripping twat in her mouth. Holding herself up on top of her lover, Natasha alternates between helping Aaron fuck her friend's pussy and giving him a blowjob to keep him rock hard.
When Aaron has brought Scarlet off to a screaming climax, he sets out to give each of the girls one more throbbing good time. Pressing his fingers deep into the tight warmth of Natasha's snatch, he finger fucks her while pounding away at Scarlet's pussy. As the girls moan their approval, Aaron reaches the pinnacle of his pleasure so that he spurts all over Scarlet's belly, leaving a sticky mess that Natasha eagerly laps up to share and snowball with Scarlet.