Alexis Adams and Scarlet Red are already in bed making out and flirting when they are joined by Van Wylde whose only wish is to make both of these lovely girls cum. He starts his quest for their pleasure by burying his face in Scarlet's landing strip pussy while his hand roams to Alexis's snatch to explore her soft folds. When Van switches things up to focus exclusively on Alexis, the brunette reaches out to make sure that Scarlet is getting some loving, too.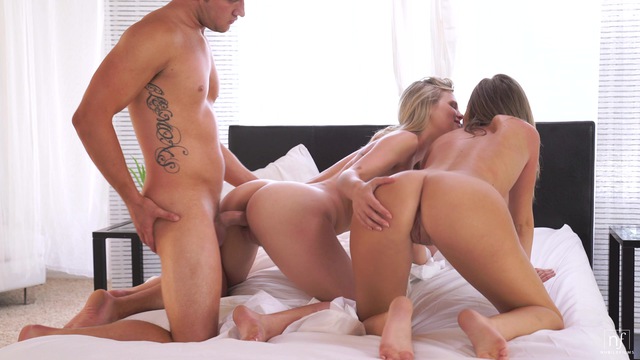 Next it's time for the girls to have a little bit of oral fun! Sliding down from their standing positions so that they can lie down on the bed beside Van, they use their eager mouths and hands to peel off his briefs before they set to work. Scarlet is the first to take Van's dick in her mouth, but the girls are happy to share so that they can each suck cock and lick balls to their heart's content.
Using the curtains to help give her more lift, Scarlet climbs on top of Van and slides down on his member for a reverse cowgirl ride that practically defies gravity. Alexis is content to rub Van's cock and balls between Scarlet's bounces, making sure that her two partners have a wonderful time. When the girls exchange places, Scarlet gives her lovers the same attention as Alexis enjoys her bouncing stiffie ride.
Next the girls get up on their hands and knees beside each other to present Van with his choice of pussies to fuck doggy style. When he dives in to Scarlet's snatch first, Alexis works to fondle her friend's tits and hold her steady for the duration of the hard pussy pounding until Scarlet is moaning her ecstasy. Then it's Alexis's turn, and she eagerly takes Van's hard dick deep in her cum hungry fuck hole so that he can bring her the same orgasmic pleasure that he just gave her friend.
While Alexis is getting her fill of fucking, Scarlet realizes that she still isn't quite satisfied. That's okay, because Alexis is always happy to eat her lover out and Scarlet can use the curtains to put her pussy in perfect licking position so that they can both recapture the throbbing ecstasy.
After giving Scarlet one final fuck in her creamy pussy, Van is finally out of endurance. Pulling out, he explodes all over Scarlet's soft mound while Alexis leans over to lap up his man juice and enjoy the salty end to their raunchy threesome.