Brunettes Caprice and Gabi exchange soulful gazes across the table before eventually their lust takes over and brings them together. Their kisses and touches are passionate as they remove each other's shirts so that they are down to just their matching white panties.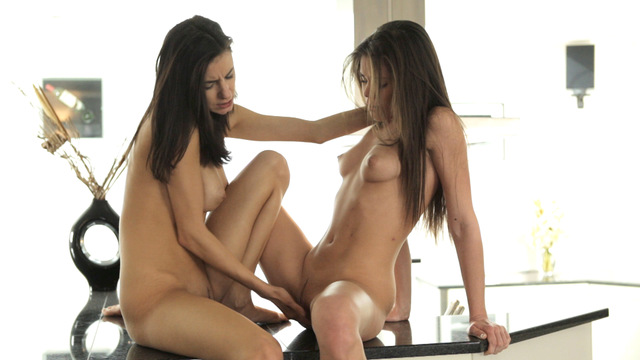 To see more of this video make sure to click here
Gabi helps Caprice down onto a chair and then raises one of her long legs into the air so that she has unrestricted access to her woman's pussy. Dropping to her knees, Gabi strokes her eager tongue up and down her lover's damp landing strip pussy. The sweeping licks soon turn into concentrated suckling at Caprice's tender sensitive clitoris.
The girls exchange a deep kiss, and then Caprice urges Gabi onto the table so that she can kiss her lover's round bottom and slide her panties off. Still on her hands and knees, Gabi moans in pleasure as Caprice eats out her horny shaved twat. Rolling onto her back, Gabi brings her legs up to her ample chest so that Caprice can easily slip her fingers deep inside her lover's tight wet sheath and suck her slick slit until she climaxes with a loud moan.

Now it is Caprice's turn to climb onto the table and thrust her curvaceous ass into the air so that Gabi can return the attention. Gabi is an enthusiastic lover, driving her tongue hard and fast into her woman's sensitive hole until she pushes her woman over the edge of pleasure.
As the girls sit side by side on the table and exchange a long kiss, Caprice reaches between her lover's thighs and quickly but firmly drives her fingers back into her woman's warmth. After another orgasm Gabi once again returns the favor, pushing her fingers home until her woman cums.