Tiffany Tatum is looking fine in her blue lingerie and high heels. The see-through material gives peeks at Tiffany's skin, and also makes it easy to detect her arousal as she watches Alecia Fox get ready for their sexy afternoon in. When Tiffany can't wait another moment, she slips across the room and into Alecia's lap for a kiss and more.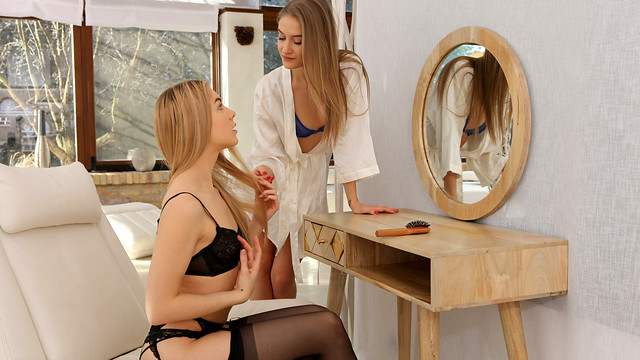 The girls pull down one another's bras with slow reverence, peppering their intimate exploration with additional kisses and caresses. By the time Tiffany fills her hands with Alecia's breasts, she finds hard nipples that are tender to the couch. Alecia is quickly lost to the sensual storm raging between them. When Tiffany offers her hand to lead Alecia to the other room, Alecia is quick to accept.
Now that Tiffany has Alecia right where she wants her, she takes things nice and slow. She unveils Alecia's twat with gentle movements, enjoying every touch against her girlfriend's hot flesh. With deliberate motions, Tiffany relieve Alecia of her panties and then slides her fingers knuckles deep into Alecia's twat. She keeps up her finger banging until Alecia's moans fill the room.
Not about to leave Tiffany wanting, Alecia turns the tables on her girl as she comes down from her climax. She gets Tiffany onto her hands and knees so that she can admire her anus while easily reaching her twat. Alecia's fingers slide into Tiffany's cream filled snatch so easily, with the liquid heat dripping faster as Alecia licks her way up the small of Tiffany's back.

Turning things back on Alecia, Tiffany sits her girl down and cradles Alecia between her thighs. From behind, Tiffany can easily reach Alecia's greedy puss. Another round of pussy fingering is on the table, with Tiffany enjoying every squirm of delight combined with the perfume of Alecia's obvious arousal. When the girls swap places once again, Alecia curls Tiffany onto her side to begin, then pushes Alecia's thighs out of the way so that her girlfriend is completely open to her ministrations.
Tiffany gives as good as she gets, urging Alecia to mirror the position she has just enjoyed so thoroughly. The girls then arrange themselves into a 69 with Alecia on top and Tiffany riding the bottom. Licking and caressing, they each make sure that the other has reached the final pinnacle of delight. Tiffany gets there first, leaving Alecia to sit up and ride her face until she cums. Satisfied, the girls exchange a deep kiss that speaks their love for one another without words.
CLICK HERE FOR INSTANT ACCESS