Jake Adams knows that his girlfriend, Aidra Fox, is a cam girl and he doesn't mind. He actually finds it pretty hot that Aidra strips online for strangers. When he walks in on Aidra doing one of her cam shows, though, he realizes that he wants her to use those moves on him. Hotblooded Aidra is happy to do just that.
When Jake takes a seat on the couch, Aidra struts up to him as while discarding her shirt along the way. She gives Jake something of a lap dance, grinding her ass against his stiffie while Jake runs his palms all over her belly and breasts. Leaning back to enjoy Jake's kisses, Aidra spreads her thighs to allow him to pull her thong up into her meaty twat. When Jake starts rubbing her clit with his warm fingers, Aidra practically melts into his arms.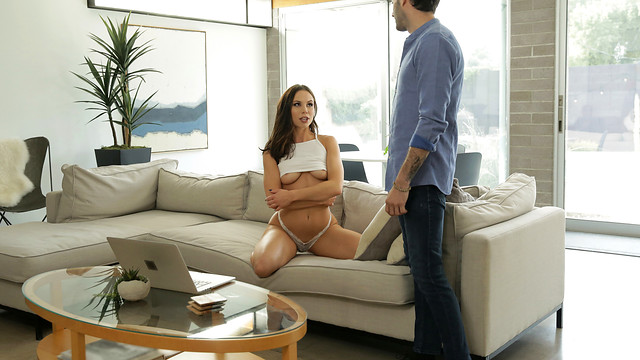 Discarding Aidra's underwear after a thorough finger banging, Jake wastes no further time. He pulls Aidra into his lap so she can slide down onto his stiffie. Aidra takes the hint, impaling herself so she can give Jake the ride of his life in her greedy fuck hole. She puts more of her cam girl moves on the table for Jake's benefit, resulting in a hot and heavy coupling.
With Aidra on her back, Jake kneels between her thighs to lap his own musk from her pussy. His fingers easily slide back into that snatch, gliding in and out as Jake devours Aidra's clit. Moving lower as Aidra adjusts her hold on her feet to open herself even further, Jake extends his oral delight to long sweeps of his tongue from her anus to her love button. Even when Aidra gets on her knees, Jake doesn't let any part of her escape the touch of his hands and tongue.

Since Aidra is already in position, it's easy for Jake to slam in for a doggy style pussy pounding. His hotblooded lover rocks back to meet his every stroke, moaning with pure bliss the entire time. As Aidra urges Jake to a harder and faster rhythm, he anchors himself with his big hands on her hips and goes to pound town for both their pleasure.
Temporarily satisfied, Aidra pushes Jake down onto the couch and proves that her cam girl moves aren't just limited to shaking her tits and ass. She makes magic with her mouth, lapping and sucking at Jake's fuck stick with occasional forays down to his balls. When Jake is ready for her, Aidra climbs on top and gives her love another ride that leaves her titties bouncing with each stroke.
Rolling onto her side, Aidra guides Jake back inside for one last hurrah. Their spooning sex does it for Aidra, who falls over the edge of bliss one last time. Her climax milks Jake's as he reaches his finish line. Pulling out at the final moment, Jake lets Aidra aim his cum shot so that he nuts all over her smooth snatch. Running her fingers through Jake's cum, Aidra licks them clean.CLICK HERE FOR INSTANT ACCESS