Leanne Lace and Marilyn Sugar are dressed to the nines in high heels and lingerie. They stand in the corner making out and letting their hands roam freely as Murgur watches with a glass of wine. The show continues until the girls decide that it's time for Murgur to join in on the fun. Crawling onto the couch, they join him with Marilyn dropping her head into Murgur's lap and Leanne stripping her girlfriend out of her bra before settling in for a pussy licking.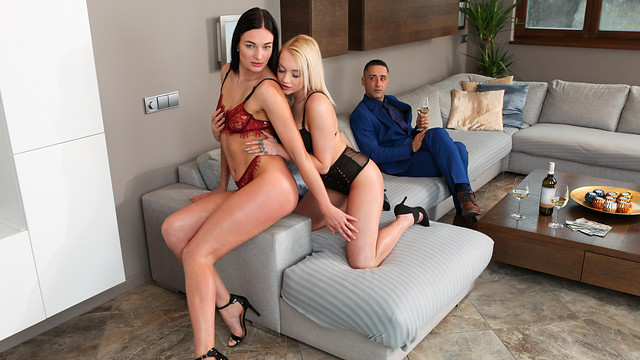 Murgur continues to enjoy the show that is being put on for his benefit, especially now that he can enjoy some hands-on action as he rubs down Marilyn's breasts. Eventually, Marilyn turns onto her side with Leanne still situated between her thighs. From that position, she can pop Murgur's hard cock from his pants to stroke and suck. Leanne eventually sees what Marilyn is up to and crawls up her friend's body so she can join in for a double BJ!
Leanne is the first to take advantage of Murgur's desire for something more hardcore. Slipping her thong aside, she leans back on the couch and lifts her thigh. Murgur barely needs to move to slide on home into Leanne's dripping pussy. Marilyn watches for a minute, then inserts herself between the pair so that she is receiving a doggy style pussy pounding while also eating Leanne out.
The trio rearranges itself when Murgur resumes his seat on the couch and pulls Leanne onto his lao to ride his man meat. Leaning forward as her hips rock in a hardcore rhythm, Leanne can easily lap away at Marilyn's tender clit. Eventually Marilyn disengages to lap at the base of Murgur's cock as he fucks her friend. Eventually, she winds up on her hands and knees with Murgur plowing her from behind as she eats Leanne out.

Still on her hands and knees, Marilyn continues to make magic with her tongue. Murgur adjusts his position to spoon with Leanne. When Leanne lifts her leg, Murgur reenters her with Marilyn's help. In return, Leanne is there to do whatever it takes to ensure Marilyn's pleasure as Marilyn hops onto Murugu's hardon and rocks her hips to ride him.
Now that he has played stud to two lovely ladies, Murgur is ready to take his own deep delight. He shoves himself balls deep into Marilyn's welcoming twat as the girls exchange kisses above him and blows his load inside her hot glove. When Marilyn disengages, Murgur's cum drips from Marilyn's twat, a hot treat for Leanne to lick up and snowball with her girlfriend.
CLICK HERE FOR INSTANT ACCESS