Lusty babe Gianna Dior is completely in love with the fiance she's going to marry tomorrow with one important exception: her beau is bad in bed. Since Gianna knows that she's going to be faithful once she ties the knot, she decides on the eve of her wedding to have one last fun fling. After careful consideration, she decides to seduce Nathan Bronson, her fiance's brother.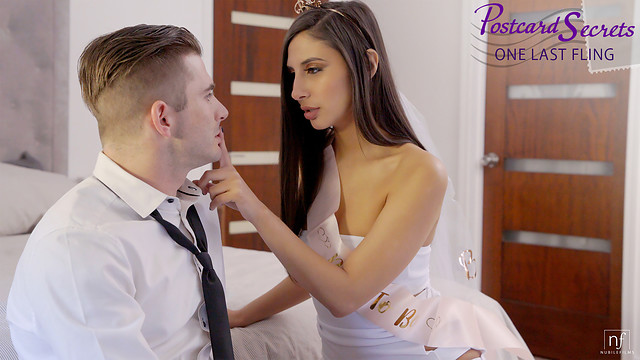 Knocking on Nathan's door, Gianna puts her plan into motion. When Nathan tells her to come in, she walks right up to him and presses a finger to his lips to keep him from talking. Then she leans in to cup his face between her hands and deliver a soft but passionate kiss. Now that Gianna has Nathan's attention, she guides his head down to where her short skirt is riding up her thighs. Laying back on the bed, she enjoys herself as her soon to be brother in law starts eating her out.
Gianna isn't cruel enough to leave Nathan wanting as he pleasures her. She pushes him onto his back on the bed, then climbs on top of him. Taking his hardon in hand, she leans forward with her mouth open and her tongue out. Licking and sucking, she takes her time as she enjoys every inch of Nathan's dick.
Now that she's seen what's inside those pants, Gianna can't wait to have it inside her. She climbs on top of Nathan's waist and settles her landing strip snatch on his shaft. Riding him in cowgirl is delightful, but reverse cowgirl gets her even wetter as Nathan's dick hits all the right spots.

Nathan has let Gianna do all the work so far, but he's not about to let this hot young thing go without becoming a more active participant. He gets Gianna onto her knees on the bed and presses her forward so he can take her from behind. Doggy style isn't something Gianna's fiance is into, so she enjoys being plowed into the bed.
Her final fling is coming to an end, so Gianna rolls over and lifts one leg into the air to welcome Nathan back inside one last time. He gives it to her slow and steady, eking out a climax for Gianna before he reaches his own finish line. Gianna guides Nathan's cum shot onto her pussy, leaving herself covered in his hot jizz.CLICK HERE FOR INSTANT ACCESS