Bunny Colby is the other woman for Jake Adams, and she feels no shame in that. She calls him up at work and begs him to come over. Jake cautions her that there'll be hell to pay if his wife finds out about their affair, but Bunny doesn't care. After she takes a shower, Bunny settles in on the couch and lets Jake know that she's dripping wet. He relents and tells Bunny that he'll be there in an hour.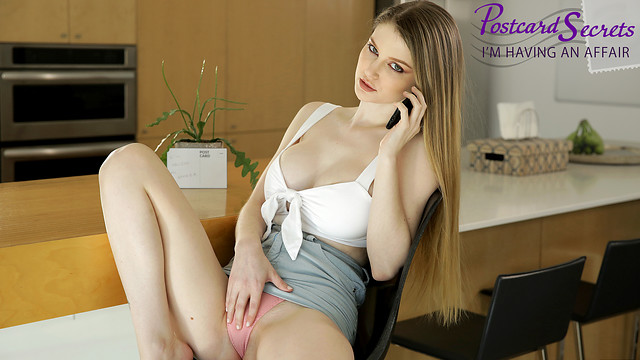 By the time Jake arrives, Bunny has really gotten into her masturbation delight. Jake joins on in, dropping a kiss on Bunny's lips as his hands go right to her big breasts. Sliding his fingertips lower, Jake feels the moistness of Bunny's snatch. He palms her twat, then dives in to enjoy a proper pussy feast.
Now that Bunny has her lover right where she wants him, she eases his cock out of his pants. Still on her knees, she opens her mouth to start licking and sucking at her favorite treat. Jake leans back and relaxes after a hard day at the office, happy to let Bunny deliver one hell of a blowjob with her sweet mouth. When Bunny is ready for more, she ditches the last of her clothes and climbs on top of Jake to slide his fuck stick home into her hairy pussy.

Turning around to ride Jake in reverse cowgirl, Bunny rocks her hips in a rhythm that gets her moaning her true delight. Meanwhile, Jake reaches up to fill his hands with the lush curves of Bunny's ass. She remains turned around as she climbs off of Jake's hardon and scoots backward to ride his face. Leaning forward, she creates a 69 that leaves them both craving even more.
Still on her knees, Bunny watches over her shoulder as Jake plows back inside her. She eventually leans forward, lifting her ass higher into the air as her lover gives her everything. She enjoys the climax, then rolls onto her back and lifts one leg high in the air so that Jake can keep on pounding away at her tight fuck hole. He goes to town, loving on Bunny as she moans for him to cum inside. Jake is happy to oblige as he gluts his bigtit girlfriend with the evidence of his love.CLICK HERE FOR INSTANT ACCESS