Bold beauty Zoey Kush wants to give Kris Slater a wakeup call he'll never forget. Crawling up his body dressed only in provocative sheer lingerie, she teases his morning wood through the thin barrier of his boxers.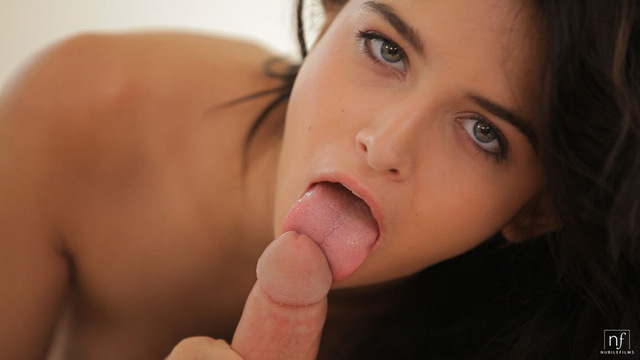 Kris reacts to Zoey's advances eagerly, lifting his hips in a plea for more. Zoey obliges, sliding Kris's boxers down to reveal her lover's long, thick erection. She takes his cock into her mouth to lick and suck him in a long, languorous blow job that neither party is in any hurry to end. Unbelievably turned on by the intimacy of the moment, Zoey pauses to strip down to her bare skin. She resumes to her sumptuous feast, laving Kris's hard dick with her tongue and worshiping him with her lips.
At last Kris cannot take the attention any longer without exploding. He urges Zoey to take his place on the bed so that he can return the favor. Massaging her slender body, he slowly parts her thighs and delves into her sweet wet pussy. Sliding his tongue back and forth over her exposed clitoris, Kris works his magic on Zoey until she joins him at the brink of completion.
To see more of this gallery make sure to click here

Intent on drawing out the pleasure for as long as possible, Kris arranges himself in the pinwheel position and guides himself into Zoey's welcoming heat. Their position keeps the penetration shallow but intense, pushing their sexual frenzy ever higher. Zoey writhes on the bed, running her hands all over her breasts and pinching her turgid nipples.
As the need for a deeper fulfillment overtakes Zoey, she climbs atop her lover and sinks her tight twat over his engorged dick. Leaning back to increase the feeling of fullness, Zoey pumps her hips and shares a smile with her lover.
Kris helps Zoey to her hands and knees so that he can enter her from behind. Overcome by the sheer pleasure, Zoey lays her head on the bed and sticks her lush bottom high in the air for Kris's pleasure. He takes advantage of her openness, thrusting his cock deep inside her drenched hole. As Zoey approaches the brink, she clutches Kris's thigh to dictate the pace of their lovemaking. At last she explodes in an incredible orgasm that leaves her gasping with pleasure.
Ready to help Kris find his release, Zoey pulls him into the missionary position. He wraps his arm around her thigh to pull her close as his cock slips inside her heated pussy. She squeezes her tits as Kris reaches the edge of his control. Pulling out of her tight twat, Kris showers Zoey's face and mouth with his cum. She licks her lips, savoring every drop as she smiles in satisfaction.
To see more of this video make sure to click here