Veronica Rodriguez enjoys some strawberries and whipped cream with Bruce Venture, and soon the food becomes part of the foreplay as the two get caught up in their sexual chemistry. Bruce can hardly wait to peel off Veronica's bra and panties so that he can eat out her luscious landing strip pussy, but after he has just the barest of tastes Veronica decides that it's his turn to play.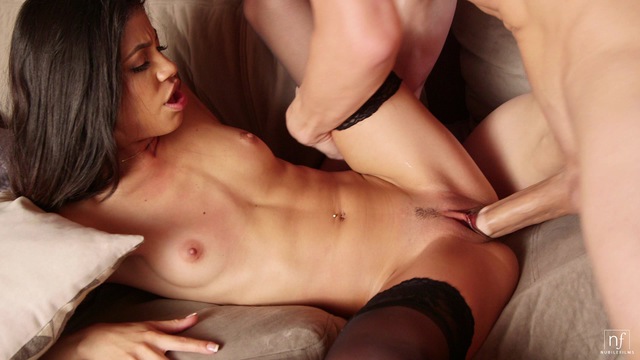 Pulling off Bruce's boxer briefs, Veronica gets down on all fours so that she can lick and suck her man's rock hard cock. She takes her time and enjoys the blowjob, especially as she works her way towards deep throating Bruce's long dick almost down to his balls!
That's all the foreplay Veronica needs to be dripping wet and ready to fuck. Climbing onto Bruce's lap, Veronica slides down on his member and then goes for a wild bouncing stiffie ride. Her hips bounce in a sensual rhythm as she and Bruce take turns setting the pace for the first few minutes of hot and heavy fucking.
Standing up with his spinner lover in his arms, Bruce bounces Veronica up and down for a few steamy moments before laying her down on her back to take the pussy pounding he's raring to give. With a combination of his thrusting hips and his hands rubbing Veronica's clit, Bruce works Veronica towards the climax that her body craves.
Turning the spinner onto her hands and knees, Bruce goes back to work. His thrusts are hard enough to make Veronica's small tits shake in time with the orgasmic pulsing of her cock craving fuck hole. Even as her orgasm rolls though her, Veronica moans with even greater pleasure as Bruce gluts her with his cum to leave her sated and content.