Dressed in matching lingerie sets, Elaina Rae and Veronica Rodriguez exchange leisurely touches and caresses in bed as they wait for their man to join them. When Ryan Driller arrives, the girls are eager to get him onto his back and to release his erection from the confinement of his jeans.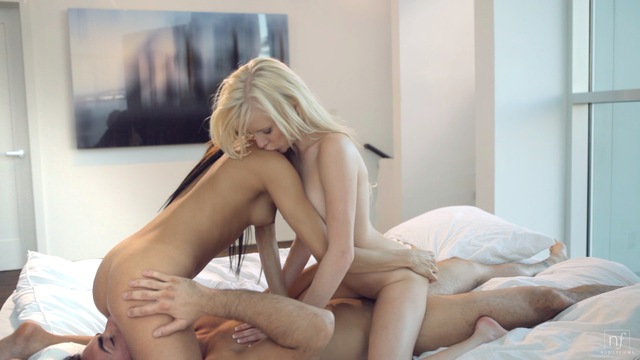 Ryan leans back and watches as Veronica and Elaina exchange another kiss over his prone body and slip out of their bras. They lean forward in tandem, each taking half of his tender shaved ball sac and pulling it into their gentle mouths. Soon, they shift their attention to his hard shaft where they take turns licking and sucking, and stroking their hands over Ryan's cock.
While Veronica keeps her man hard, Elaina slips out of her panties. Ryan slides his hand down her back, testing her wetness with his fingers before rising and drawing Elaina to her knees so he can enter her from behind. Conveniently facing Veronica, Elaina takes advantage of her new position to tease her tanned lover's breasts and pussy with her talented fingers and tongue.
The trio shifts positions so that Ryan can pleasure both girls at the same time. Lying flat on his back with Elaina riding his dick, he laps at Veronica's juicy shaved slit when she settles over his face. Facing each other, the girls maintain intimate eye contact until Elaina leans forward to suckle Veronica's breast. Veronica returns the favor, and then teases her own nipples with the long silk of Elaina's hair.
The lovers continue until Elaina's orgasm shudders through her. After a moment to catch their breaths, the trio repositions themselves so that Elaina is on the bottom with Veronica draped on top of her in perfect 69 position. Ryan drives himself into Veronica's hot twat, pumping steadily as the two girls enjoy eating each other out. Veronica drives Elaina to another orgasm, and Ryan and Elaina combine to send Veronica over the edge as well.
When Ryan reaches the end of his endurance, he fills Veronica's pussy to overflowing with his essence before withdrawing. Elaina and Veronica continue their pursuit of mutual pleasure, lapping at each other's pussies in the 69 position. As Ryan's cum flows from Veronica's pussy to Elaina's hungry lips, the blonde makes sure to lick off every bit of her treat.