Serpente Edita sits with a glass of wine while Denis Reed does some heavy lifting for her. When Denis has finished his chores, Serpente grabs his shirt and pulls him close to reward him. She starts by pulling out Denis's cock so that she can lick and suck the tip, and then dive in for a full-on blowjob.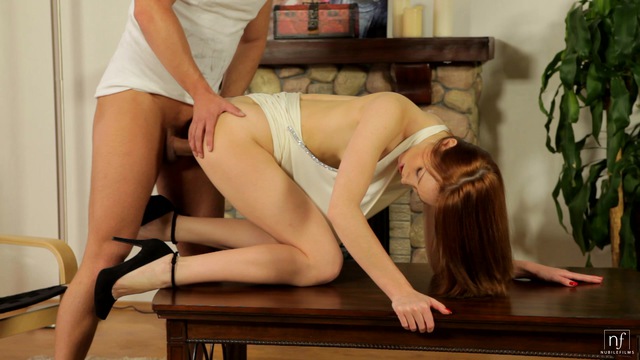 Pulling up her miniskirt, Serpente reveals her soft bald pussy that is already creamy with the anticipation of being fucked. She doesn't waste any time climbing onto Denis's erection so that she can slide down and give him a stiffie ride with slow thrusts of her slender hips.
Wishing to change things up, Serpente pulls Denis up by his shirt so that she can replace him on the coffee table. She gets on her hands and knees, which puts her snatch at a perfect height for a doggy style pounding. Denis is happy to slide home and enjoy the opportunity to fill Serpente with his hard fast strokes of his fuck stick.
When Serptente turns onto her back and spreads her legs, Denis knows exactly what she needs. Sinking to his knees, he buries is face in her slick slit so that he can put his tongue to work licking and sucking on Serpente's sensitive clit. Serpente's moans tell Denis everything he needs to know as he adds some pussy fingering to his action to push her closer to climax.
Replacing his fingers with his cock, Denis sets off on a mission to make his lover cum. Serpente is happy to help, fondling her own clit while Denis fucks her until she is gasping her orgasmic pleasure! Moments later, Denis pulls out and covers Serpente's flat belly and bare mound with this jizz to finish their lovemaking with a bang.