Sexy Nathaly has a big surprise for her lover Angelo Godshack when she climbs onto the bed and starts teasing him in his sleep with a long feather. It's not long before he wakes up, and when he sees how ready Nathaly is to play he is instantly in the mood for fun. A brief pillow fight ensues, and then quickly turns sexual when Angelo captures Nathaly's lips in a passionate kiss.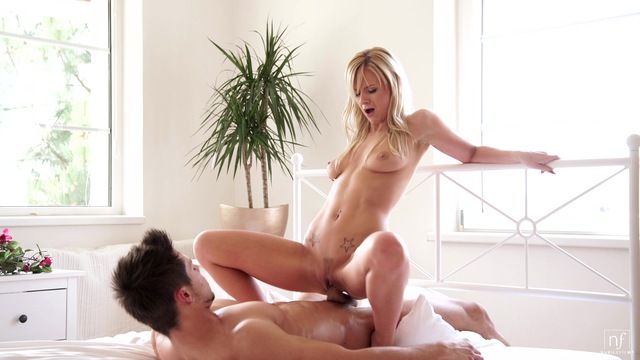 Soon Nathaly is squirming beneath Angelo as he peels off her bra in between deep kisses. When Nathaly finds herself on top of Angleo and feeling his cock pressing hard against her belly, she knows just what she wants to do! Peppering his body with kisses on her way down, she gradually works her way to Angelo's dick and pulls it out for playtime.
Within only a few moments she has wrapped her soft warm lips around the head of Angelo's cock and has begun to suck away. She takes her time, getting her hands in on the action so that she can rub his shaft and play with his balls while constantly working him with her talented mouth.
Angelo enjoys having his cock sucked, but nothing compares to the taste of Nathaly's juicy landing strip pussy when he finally gets her thong off and latches his mouth on to her tight clit. She's so wet that he can easily slide two fingers deep into her channel. It only takes a few fast flicks of his wrist to find her g-spot and then drive her wild as he rubs it again and again until she cums.
Pulling Nathaly forward while her body is still humming from her first climax, Angelo primes her snatch with another round of pussy eating and then replaces his mouth with his cock to fill his lover up just the way she craves. The long deep strokes hit all of Nathaly's buttons as she lies on her back and lets Angelo do the work, but it's the hard penetration of doggy style that brings the blonde to another climax.
Next Angelo lies down on the bed and lets Nathaly climb onto him so that she can take her turn being in control while he enjoys watching her full tits bounce in time to her pumping hips. Nathaly is indefatigable, pumping her hips at a breakneck pace until she reaches her peak.
Nathaly isn't quite satisfied, but she wants to bring Angelo to the same level of ecstasy that she has visited so many times during their lovemaking. Arranging herself so that she is laying with her sweet pussy in Angelo's face, Nathaly goes to work sucking and rubbing Angelo's cock as he eats her out so that they drive each other closer to that final pinnacle of pleasure.
Even as her final climax looms close, she brings Angelo to the edge of his endurance. He cums hard, squirting all over Nathaly's waiting mouth and making a mess that she happily licks up.