Tight babe Naomi Nevena can't wait to get it on with Thomas Long. The couple indulges in sweet kisses while Thomas massages Naomi's perky boobs. When he shifts his hand down to cup her hot pussy beneath its thong, Naomi decides to take matters into her own hands.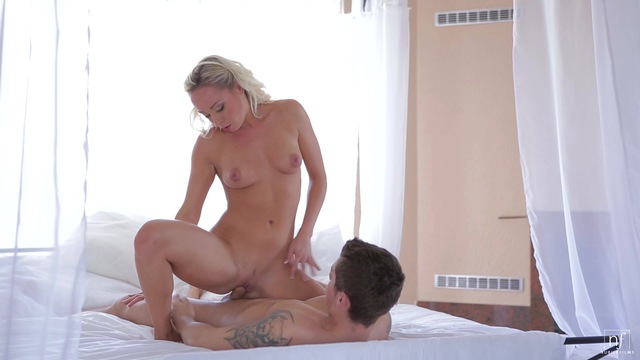 Leaning back, she runs her fingers all over her tanned breasts and big areolas, enticing Thomas with ever caress. When she pulls her thong aside to give Thomas a peek at her needy snatch, he can't keep his hands off of her a moment longer!
Thomas is gentle in laying Naomi out and relieving her of her underwear. When she is all bared for his pleasure, he leans forward to sample the creaminess of her snatch. Based on her encouraging sounds, Thomas gets his fingers into the act, too.
Now it's time for Naomi to get in on the action. Switching places with Thomas, she pulls out his erection and engulfs him with her soft sweet lips. After an experimental lick, she dives in without hesitation to suck like a Hoover.
When Naomi finally decides to move on from her cock licking, she steadies Thomas's dick with her hand and then climbs on top. With steady thrusts of her hips, she takes her man for a ride while he enjoys the vision of his perky blonde lover rising above him.
After her first climax, Thomas gets up to do some of the work. Naomi gets down on her hands and knees, presenting her pretty twat to him for a doggy style fuck. He slides into her tight warmth easily, pumping his hips in a rhythm that gets Naomi moaning her lusty pleasure. Flipping onto her back, she spreads her legs and keeps on taking the pussy pounding that she lusts for!
Even after her orgasmic cries once again fill the room, Thomas keeps up the hot and heavy pace! With only a heartbeat to spare before he explodes, Thomas pulls out of Naomi's hot wetness and spills his load in her waiting open mouth so that it can dribble down her chest to create a puddle of love.