Mindy is trying to decide what jewelry to wear when Jason X arrives with the gift of something new that she just loves! Of course there's no better way to say thank you than to indulge in a lingering kiss that is guaranteed to turn into something much more!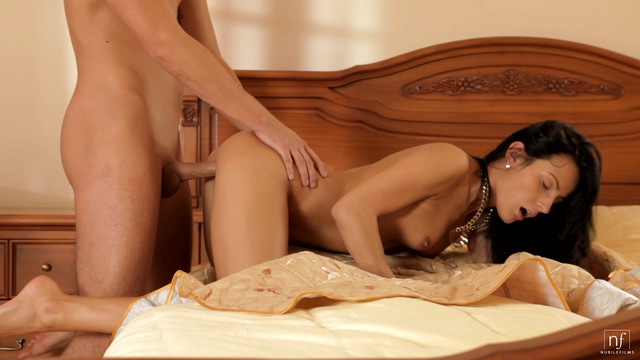 Jason gets to enjoy his treat first as he gets Mindy out of her shorts and bends her over the bed so that he can lap his tongue up and down her creamy slit before pressing a finger into her fuck hole so that he can lick her tight anus.
Of course after such amazing pussy licking Mindy is all about returning the favor for Jason! She can't get her lover's cock in her mouth fast enough for a hot wet blowjob when she gets the opportunity. She makes the most of her chance to blow her man's mind, sucking Jason's balls and cock like a Hoover!
As soon as Mindy's snatch is dripping with excitement, she gets down on her hands and knees again so that Jason can enter her from behind. Their doggy style sex picks up in pace quickly until Mindy is gasping and groaning with each thrust.
Next Mindy climbs on top of Jason to ride him like a cowgirl! Her hips thrust in a rhythm that gets them both burning hotter for the inevitable conclusion ,especially after Mindy reaches a climax that leaves her whole body pulsing with incredible pleasure.
Refusing to quit when they're still so horny, Mindy and Jason switch things up so that Mindy is on her back with Jason going to town on her cock craving twat. His strokes stay rough but steady, giving Mindy all the sensation she needs to cum yet again.
While Mindy's pussy walls are still pulsing with joy, Jason pulls out and blows his load all over her smooth twat in a final expression of their love.