Denis Reed has offered to give Luna Ora a massage, a proposition to which she has gladly agreed. Dropping her robe, she climbs onto the massage table fully naked and enjoys the feel of the oil and Denis's hands gliding all over her back, thighs, bottom, and pussy. When she turns over on her back, she receives the same treatment on her belly before pushing his hands lower so that he is rubbing her sleek bald snatch.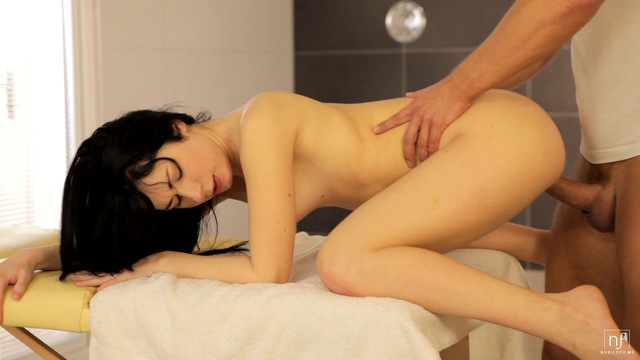 Replacing his hands with his mouth, Denis kneels and sets to work eating Luna out while the fair-skinned Italian enjoys every moment of his attention. When Denis rises and kisses Luna deeply so that she can taste herself on his tongue, the raven-haired hottie is inspired to new levels of passion. She pulls out Denis's cock and then lays him down on the table so that she can deliver a massage of her own.
After she pours some massage oil into her hands, Luna goes right for the sweet spot of Denis's dick. Soon she is using both hands to cover every inch of her lover's cock and balls in the slick substance, making it nice and hard and ripe for an enthusiastic blowjob.
Denis enjoys his cock sucking, but he can't keep his mouth off of Luna for too long. Exchanging places with her, he fucks her juicy twat with his stiff tongue until she is wriggling with excitement. Only then does he replace his tongue with his fuck stick, putting it in perfect position for Luna to eagerly pump her hips to set her own pussy pounding pace.
Flipping Luna onto her back, Denis lifts his woman's legs and then slams into her cock hungry snatch with long hard strokes that soon have Luna gasping and moaning as her whole body quivers with orgasmic release. Denis can't hold it in any longer as he feels Luna's pussy walls throbbing around him; pulling out of her hot snatch at the last moment he takes aim and covers her tummy with his cum to brand her as his lover forever.