Lady D. is ready to rock Thomas Long's world by letting him be in charge for the evening. Dressed In a matching red bra and thong, she turns around to make sure that he likes what he sees, and then joins him on the bed when Thomas beckons her closer. Staying passive, she lets Thomas bind her wrists behind her back knowing that he will take good care of her pleasure.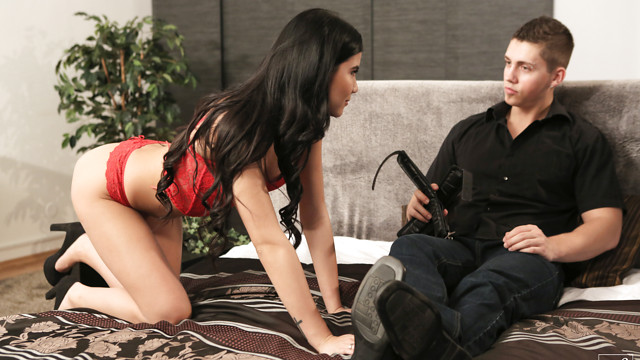 Click Here for the FULL Video!
Down on her knees, Lady leans forward to give a mouth-only blowjob. Thomas helps his lover suck his cock, guiding her head so that her mouth is in just the right spot to accept his thrusts. When he's ready to have something even more intimate, Thomas comes up to Lady from behind and bends her over to take her in a doggy style pussy pounding.
Knowing that he has Lady at his mercy, Thomas goes all out slamming in and out of her tight twat. Lady can't contain her moans of excitement, especially as Thomas brings her to a kneeling position to change the angle of penetration. When she falls to her side, Thomas takes the time to remove her thong before continuing working towards the goal of the ultimate ecstasy for both of them.
Still bound at the wrists, Lady regains some control by climbing on top of Thomas's long dick. Once she has her balance with the help of Thomas's hands on her waist, she goes to work bumping and grinding with her hips so that her clit is rubbing against Thomas's balls while he fills her to the brim.
Flipping Lady onto her back, Thomas urges her legs up into the air so that he can slam into her juicy snatch. Lady can only lay back and take it as Thomas brings her to absolute ecstasy with just the right amount of roughness. When Thomas pulls out to cum all over Lady's face, she's still bound and can only accept his cum shot with a smile that says without words how much she has enjoyed this intimate restraint.