Kimmy Granger is cooking dinner for Ryan Ryder, a kind gesture that Ryan repays with soft kisses and warm embraces. When Kimmy spills sauce on her shirt as a result of their sensual flirting, Ryan is happy to help her take it off. Of course, once he gets her out of one piece of clothes he just can't stop until she's fully nude.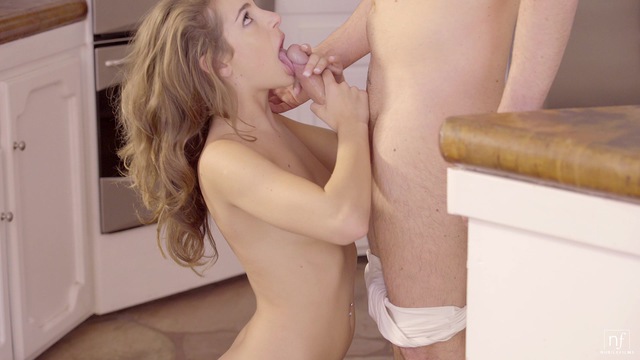 Kimmy is happy to hop up onto the counter and part her thighs to open the way for Ryan to bury his face in her bald pussy. He takes an exploratory lick and then dives in with his tongue and fingers as he enjoys the sweet flavor of Kimmy's creamy juices. As Kimmy gets closer to her first climax, Ryan rises to his full height and focuses on using just his fingers to take her to the pinnacle of pleasure.
Gradually calming down from her body's throbbing ecstasy, Kimmy climbs off the counter and drops to her knees in front of Ryan so that she can return the favor of oral love. She takes his cock in her mouth with a big smile and uses the combination of her soft lip, her deep throat magic, and her talented hands to pump her lover to absolute rock hardness.
Although Ryan could cum from the delights of Kimmy's mouth, he wants to spend some time deep inside Kimmy's juicy fuck hole first. Kimmy is happy to lean forward onto the counter with one leg propped up so that Ryan can take her from behind with firm deep strokes that get her body humming with excitement all over again.
Moving over to the kitchen island, Kimmy hops up onto the counter to put herself at the perfect height for a real pussy pounding. As Ryan goes to town, Kimmy raises her legs and links her ankles around his neck to open herself for Ryan to go deeper than ever. As she gets closer to climaxing, Kimmy gets back on her feet to resume her preferred position of having Ryan take her from behind.
After driving Kimmy to one last climax, Ryan pulls out of her soft warmth and urges his lover down onto her knees. Kimmy knows just what to do! Using her eager mouth and stroking hands, she coaxes Ryan to a climax that falls all over her waiting mouth and chin to dribble down her neck and chest.