Warming up by the fire takes on a whole new definition in this masturbation scene by golden goddess Jessie Rogers. Dressed in a soft white sweater, a white thong, and knee-high black boots, Jessie curls up on a bed of pillows and makes herself comfortable.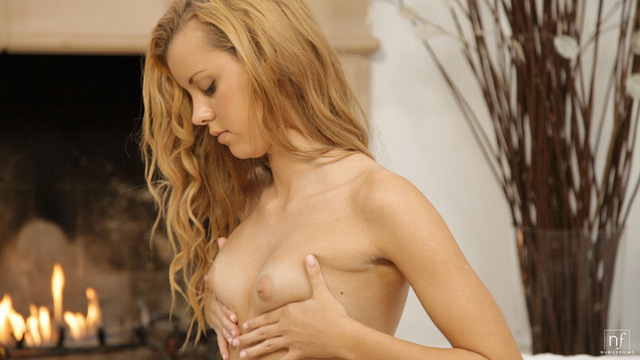 Stripping down to nothing but her high heeled boots, Jessie's soft hands roam her supple body. She pays special attention to her perky small boobs and her little nipples. Licking her fingers, she circles her areolas until they peak with pleasure.
Soon Jessie's attention moves further south as she lies back to explore the perfect petals of her shaved pussy. Her fingers stray back to her mouth to lubricate them before she spreads her thighs and massages her clitoris. With her hands alternating between her creamy pussy and her upturned breasts, Jessie moans as pleasure coils in her body.
To see more of this gallery make sure to click here

As her ecstasy mounts, Jessie rolls to her hands and knees, and pokes her rounded ass in the air. She goes back to work with her talented fingers, sliding them down her slick slit until she cums with a moan that says without words that this was one amazing orgasm.
To see more of this video make sure to click here