Lusty blonde Violet slips into some sheer lingerie for the benefit of her lover Jessa Rhodes. Instantly turned on by watching Violet's struggles to fasten the last of the clasps, Jessa struts over and then drops to her knees to help out.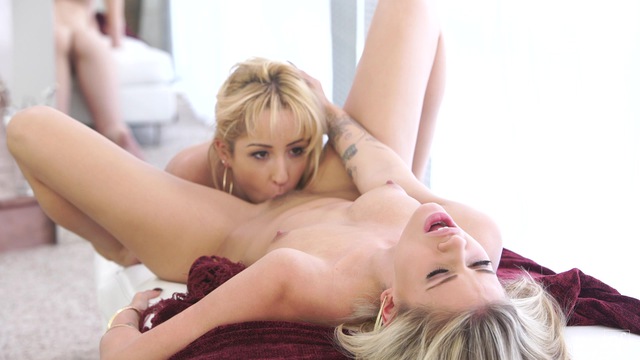 Now that Violet is outfitted for seduction, the girls can turn around and get naked! Jessa drops her bra to the ground, and then helps Violet to shimmy out of the teddy that she just finished putting on. With a smile and a laugh, Violet pushes Jessa down on the bed and relieves her of her panties. Then she leans forward to settle in for a landing strip pussy eating.
Jessa just loves having her snatch licked, and she lets Violet know about every incredible pulse of sensation with loud moans. Pinching her rock hard nipples to increase her enjoyment, Jessa rocks back and forth while gently thrusting her hips as Violet's pussy feast brings her ever closer towards ecstasy.
When Jessa's climax breaks through her, she knows just what she has to do to repay Violet for all of her hard work. Pulling her blonde lover on top of her so that Violet can watch herself in the mirror, Jessa indulges in playing with Violet's lush ass for a few moments and then she buries her face in the smooth baldness of Violet's snatch.
While Violet watches the glow of an impending orgasm build on her face, her hands drift lower to Jessa's twat in the beginnings of a 69. Soon she can't resist the temptation to dive back in to Jessa's delectable fuck hole so that they can both work each other to the brink of joy.
Although she enjoys the 69, Jessa has something else in mind for their pleasure. Pulling out a double-ended dildo, she pushes it deep into Violet's tight channel and then settles the other end deep in her own pussy. The girls lift their legs and start pumping their hips in unison, filling themselves at a perfect angle to bring them both screaming into orgasmic bliss.