Lusty Janice Griffith struts towards Tyler Nixon wearing just a bra and thong with seduction obviously on her mind. Tyler is willing to play, and soon the two are liplocked and enjoying a hot make out session. It doesn't take long for Tyler's attention to shift south to the bounty of Janice's landing strip pussy, which throbs against the seam of the thong. Pulling the fabric down Janice's legs, Tyler presses his mouth to the sweet pussy lips that he has just uncovered, much to Janice's delight.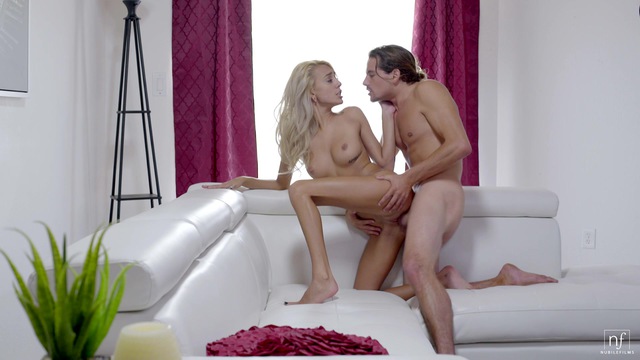 Climbing into Tyler's lap, Janice enjoys a few more moments of sweet kisses before her wandering hands uncover Tyler's thick erection. Getting on her hands and knees, Janice wraps her puffy lips around her lover's dick to lovingly lick and suck every inch of his shaft until he is gleaming with her saliva.
In only a short time, Tyler flips Janice onto her back so that he can position his dick and then push deep into her tight twat. He receives a warm welcome as Janice moans her approval of his long firm strokes, but the real fun starts when Janice gets back on her knees to take an even deeper pussy pounding from behind.
With her body still humming in ecstasy from her previous climax, Janice climbs back into Tyler's lap and then hangs on for the ride as he thrusts his hips up to take her to new heights. Her breathy moans of joy get higher and hotter when they fall to their sides with Tyler spooning her from behind and slamming into her needy snatch from behind until she explodes once again in ecstasy.
Moments after bringing Janice to her final climax of the day, Tyler finally gives in to his own needs. Pulling out of her juicy warmth, he uses his hand to send him over the edge so that he shoots his load all over Janice's soft mound and belly, covering her in the hot juices of his love.