Dido Angel and Gina Devine enjoy a slow sensual makeout session together that quickly culminates in Dido slipping her tongue deep into Gina's wet shaved pussy and giving her a good pussy licking. Gina takes a turn next, wetting down her lover's twat with long loving strokes of her tongue that soon have Dido moaning her pleasure.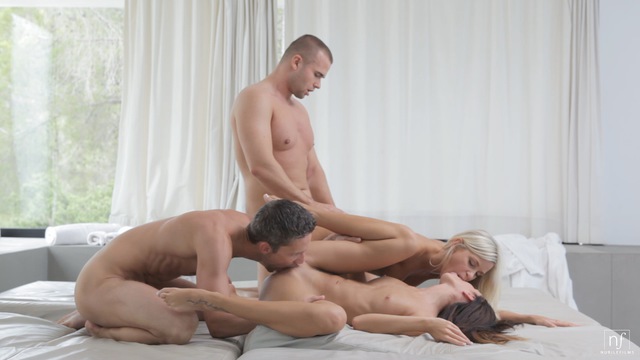 To see more of this Video make sure to click here
The girls are so wrapped up in their lovemaking that they hardly notice when their men Tommy and Lutro enter the room. The two guys aren't about to let their women have all the fun. Tommy joins Gina in her mission to pleasure Dido's wet warmth while the blonde takes advantage of her man's erection being close enough to pump and suck. Meanwhile, Lutro kneels down behind Gina to bury his face and his fingers in her needy twat.
The group switches things up so that Lutro gets in on the action, too. Gina takes her time licking and sucking his cock like a delectable treat as Dido gives Gina's pussy the same treatment. Last in line, Tommy sinks his hard cock deep into Dido's needy pussy.
Knowing that Gina also needs her snatch to be filled and fucked, the two couples switch things up yet again. Gina and Dido position themselves side by side to return to their previous makeout session while Tommy and Lutro each deliver a hard pussy pounding to their respective woman as the girls gasp and moan their approval.

Next the attention largely shifts to Gina as Dido, who continues to get fucked from behind, bends to work her woman's clit with her fingers and mouth and Lutro nibbles and licks the brunette's rock hard nipples. Lutro slides deep into Gina's fuck hole from his spooning position behind and pumps his hips while Dido continues to work her clit until Gina can no longer hold back the wave of ecstasy that sweeps through her.
Lutro stands so that Gina can kneel before him and wrap her eager lips around his cock to deliver a long wet blowjob as Dido lies beside her and spreads her legs for Tommy to continue to take her with hard deep strokes. The pleasure mounts for Dido as her whole body shakes with the power of her man's fucking until she reaches her climax with a long moan of completion.
Now that the girls have been pleasured it is time for the men to reach their own climaxes. Tommy continues to pound Dido's willing pussy and Gina bends down to let Lutro have the same treat as the couples enjoy a tandem doggy style fuck. Lutro reaches his completion first and pulls out to shower his love all over Gina's upturned ass. Moments later, Tommy gives Dido the same treatment.
Gina is waiting to lap up Tommy's cum and then share a long lingering kiss with Dido to wrap up the enjoyable group session of love.
To see more of this gallery make sure to click here