Claire Dain and Holly Belle are spooning in bed when they are joined by the delectable Gina Devine. As Claire and Holly wake up to loving kisses and touches from Gina, things heat up quickly.
Gina starts out in the middle, eating out Claire as Holly buries her eager mouth in Gina's pussy. The delicious action soon leaves Claire moaning in pleasure and Gina pumping her hips up and down in pleasure, but they don't want to leave Holly out of the love triangle.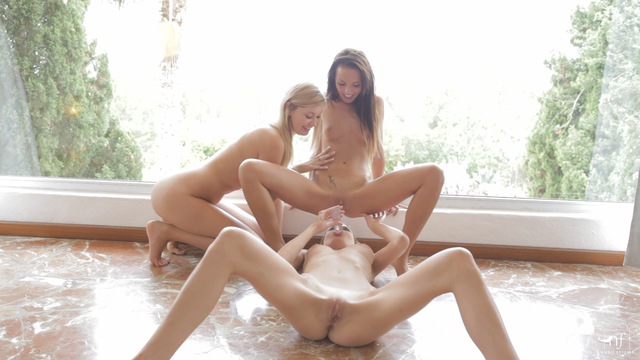 To see more of this Video make sure to click here
Settling the blonde between them, Claire and Gina caress their hands all over their woman's body as Gina slowly works a big dildo deep into her Holly's shaved twat. Gina's wrist thrusts harder and faster and Claire works Holly's clit as the pair drives Holly towards a breathless orgasm and then offer her the toy to lick her feminine essence at the end.
Next it is Claire's turn to enjoy the attention of her two lovers. Gina takes her time pleasuring Claire's high breasts and hard nipples while Holly presses her eager mouth and tongue to Claire's wet slit. When Claire is open and ready for penetration, Holly slides the hard dildo down and slowly pushes it home deep inside her woman's sheathe. Now it is Gina's turn to stroke her lover's clit as Holly uses the toy to send Claire over the edge of passion.
Gina is the final girl to take her position in the middle, but Claire and Holly make sure that it's worth the wait. She crouches above Claire's face so that the blonde can lick and suck at her bald pussy while Holly keeps her mouth busy with long kisses. When Gina is dripping with anticipation, Claire gives Gina a ride on the dildo that has pleasured the other two girls, working the toy to send Gina over the edge of her climax.
Finally satisfied, all three girls curl up together on the floor to cuddle and enjoy each other's sated happy sighs.
To see more of this gallery make sure to click here