Sleeping soundly after a night of passion, Elle Alexandra, Melena Morgan, and Celeste Star are in no hurry to leave the bed. As Melena slowly comes back to reality, she unconsciously strokes Celeste's smooth thigh and pulls her lover close. The movement brings Celeste back to reality and she responds with passion, running her hand off Melena's slender body. Fully awake now, the girls spoon with each other as they explore each other's soft skin.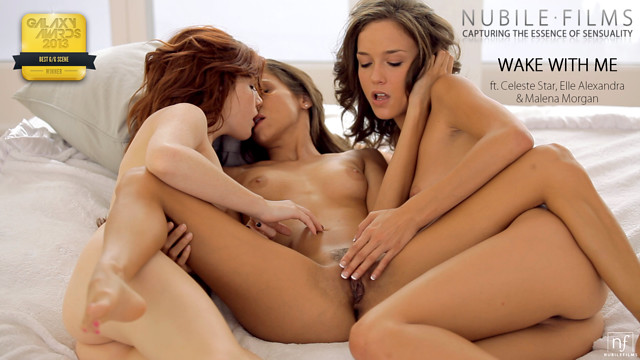 To see more of this gallery make sure to click here
Disturbed by the movement in the bed beside her, Elle awakens to the sounds of shared kisses. She opens her eyes to find her friends consumed in heated arousal, and her body instantly ignites with desire. Watching as her playmates become even more engrossed in one another, Elle begins to massage her warm pussy over her panties. Celeste slowly relieves Melena of her clothes while Elle slips her panties to the side for easier access to her sensitive clitoris.
Finally Melena and Celeste become aware of Elle, pausing to enjoy the show she is putting on. Giggling, they quickly welcome her into their passionate frenzy.
Focusing all of their attention on Elle, Melena and Celeste peel her panties off and cover her with their mouths. Melena suckles Elle's pert nipples and kisses her sensitive collarbone while Celeste devours the sweetness of Elle's amazing shaved pussy. Driven to new heights of passion by Elle's moans, Celeste delves her fingers deep into her friend's horny hole. All of the stimulation soon drives Elle over the edge as she explodes in an incredible orgasm.
To see more of this gallery make sure to
click here
The girls relish Elle's release together, sharing a triple kiss before focusing their attention on Celeste. Refusing to give up all control, Celeste reaches out to finger her lovers' pussies as they concentrate on her pleasure. Elle and Melena pull Celeste's thighs apart to reveal the pearl of their friend's desire, and then dive in together to twine their tongues in tandem across Celeste's weeping pussy until she succumbs to the waves of pleasure crashing through her body.
After Celeste recovers her breath, she and Elle playfully pin Melena to the bed. Trapped beneath Celeste, Melena can only moan and writhe as Elle rubs her friends' pussies. Celeste takes advantage of her position to suckle Melena's aching breasts while Elle intensifies the attention she is paying to Melena's exposed clit. It isn't long before Melena, too, is driven over the brink of ecstasy.
Glazed with perspiration and the liquid reminder of their intense lovemaking, the three beauties lay down on the bed to exchange slow, soft kisses while their bodies cool down from their heated morning of lovemaking.