Bella Baby is just waking up from an afternoon nap when Leony April finds her and decides to help her friend awake with a long, heated kiss. When Leony unties Bella's halter top and pulls it down, her lover smiles up at her and waits impatiently for Leony to plant tender kisses and gentle licks on her firm perky breasts.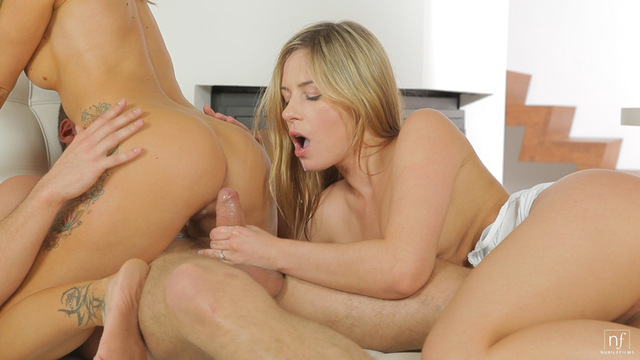 Leony isn't ready to stop there, though. She urges Bella to roll onto her hands and knees with her luscious bottom up in the air, and then slides her friend's panties down and off as she peppers Bella's ass with kisses and loving licks. When Bella returns to her back, Leony parts her thighs and delves her tongue into her creamy shaved slit to lap at her woman's clitoris.
Turned on and incredibly horny, Bella isn't about to let Leony have all the fun. She sits up and helps Leony out of her shirt before wrapping her arms around her woman and indulging in another long kiss. Then she urges Leony to take her turn on the chaise so that she can return the favor of eating her lover out.
The girls are so wrapped up in pleasuring each other that they are surprised by the arrival of their friend Will. Walking in on two beautiful women making love to each other has given Will a hard on that only Bella and Leony can fix, and both blondes are more than happy to help him out.
To see more of this gallery make sure to click here

Cupping her man's hard dick through his boxer briefs, Leony eagerly pulls his underwear down and wraps her eager lips around his erection. Bella is soon distracted from feasting on Leony's pussy by the appeal of kissing and sucking Will's cock alongside her friend.
Wanting to participate in the lovemaking, Will guides Leony so that she is leaning forward with her bottom in the air so that he can slide his long dick deep into her needy twat. As Leony writhes and moans at the full feeling he has created inside of her, Bella watches and massages her clit as she enjoys the show.
But Will isn't only interested in Leony's pleasure. Pulling out, he presses his dick deep into Bella's tight sheath while Bella shfits her attention to fucking Leony's tight hole with her fingers.
The trio enjoys their amorous romp, but the tension slowly coils inside all of them until they are all on the verge of cumming. Will lies back on the chaise so that Leony can ride him reverse cowgirl style while Bella stimulates her tender clit until Leony orgasms with a gasp and a moan.
As soon as Leony finds her pleasure, Bella pulls Will's dick out so that she can suck her friend's pussy juices off of it.
The girls switch places with Bella mounting her man cowgirl style so that she can ride her way to completion. As Bella is about to cum, she rises up off of Will's member so that Leony can bury her face in her friend's pussy and lick and suckle her to ecstasy.
After she has helped Bella to her climax, Leony makes sure that Will is rewarded for his part in their mutual pleasure. She wraps her eager lips around his pulsing dick and blows him until he explodes all over Bella's tender ass. Leony is all too happy to lick up the mess as all three lovers bask in the aftermath of their passionate encounter.
To see more of this video make sure to click here