Already blindfolded, Anna Rose is led to the bedroom by Figo. She trusts her lover, so when he lays her down on the bed and buckles her down with restraints, her soft sighs of excitement are all the permission that Figo needs to keep going.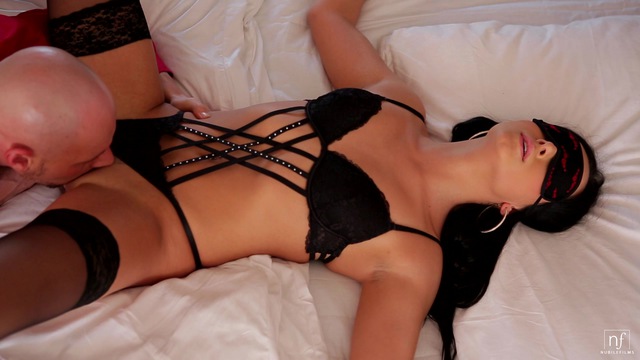 Once Anna is secured, Figo has plenty of time to lick his way up her inner thighs and then teasingly stroke her hot twat and tight belly. Pulling aside Anna's thong for his first sample of her delectable juices, FIgo dives in with a smile for a full-on pussy feast.
Deciding that it's his turn for some oral pleasure, Figo climbs to the top of the bed and whips out his dick so that Anna can take it into her needy mouth. Her eagerness is obvious as she licks and sucks with glee until Figo decides that he's satisfied.
After releasing one of Anna's legs to open her fuck hole for his pleasure, Figo positions his cock over her entrance and lets the anticipation build for a moment before he slides home. Once he is buried to the hilt he is free to pump his hips in a fast pace that gets Anna's small tits bouncing.
The next part of Anna's restraints to come off is the blindfold, followed by the other leg shackle. Now that Anna can see what she's doing she's able to get in on the action by lifting her hips in time with Figo's thrusts.
When Figo finally releases her hands, Anna takes full advantage of her newfound freedom to shuck off her lingerie and climb naked on top of her man. Straddling him, she slides down on his cock until her landing strip snatch is filled and she is able to go for a wild stiffie ride to burn off some of her sexual neediness.
As one orgasm shivers through her, Anna turns onto her belly so that Figo can take her from behind. Her soft rump quivers as her pussy gets pounded, and soon her whole body spasms with yet another release. Moments later, Figo pulls out just in time to cum all over Anna's ass so that they can both finish off their lovemaking with satisfied smiles.