Kylie Kalvetti is enjoying herself in the bathtub with one hand on her creamy pussy and the other on her tender tits when Adriana Chechik approaches her from behind with a blindfold. Once her vision is taken away, Kylie keeps on masturbating but now she has Adriana's lusty help.
Adriana just can't keep her hands and mouth off of Kylie's full boobs, but soon the lure of Kylie's creamy snatch seduces her to reach even lower into the tub. Her fingers work in overtime as she fondles Kylie's creamy slit that is slick with the bathwater.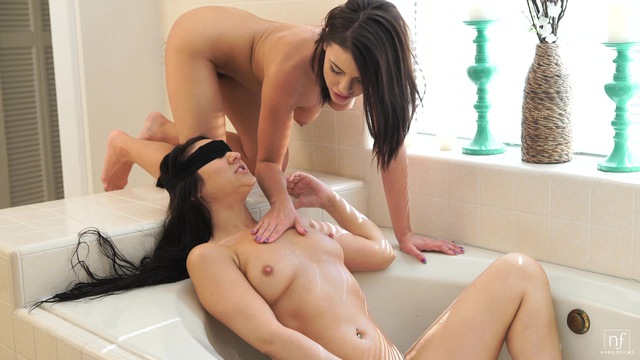 Still blindfolded, Kylie still manages to find her way to Adriana's landing strip pussy so that she can bury her face in her lover's snatch. Kylie's pussy licking is so enthusiastic that Adriana removes the blindfold. Now that she is free to see what she is doing, Kylie goes to work finger fucking Adrian's dripping slit while using her tongue to fondle the brunette's clit in a fast and furious rhythm.
Adriana wants to do some pussy licking of her own, and Kylie isn't about to turn down the offer. Settling on the edge of the tub so that Adriana can kneel in the bathwater, Kylie spreads her legs and relaxes as her woman does all the work. Adriana clearly enjoys every moment of her pussy feast as she uses her magic tongue and soft lips to bring Kylie to a moaning climax.
While her body is still pulsing with ecstasy, Kylie helps Adriana stand up and then gets down on her knees to go back to worshipping her woman's snatch. Once she has ensured that Adriana is wet and ready, the girls sit side by side on the edge of the tub so that they can alternate between fingering each other's twats and enjoying some mutual masturbation.
Soon both girls are pumping their hips and whimpering their joy as orgasmic bliss overtakes them both. When they are finally finished, they enjoy a final deep kiss to end their lovemaking.