Krissy Lynn has a Valentine's Day surprise for Van Wylde. She starts by slowly donning hot red lingerie that clings to her busty curves as she watches herself in the mirror. Then she waits in the kitchen with a trail of rose petals leading the way for Van to find her. He is thrilled with his lush gift, which he proves with deep kisses as his hands shape Krissy's breasts and relieve her of her bra.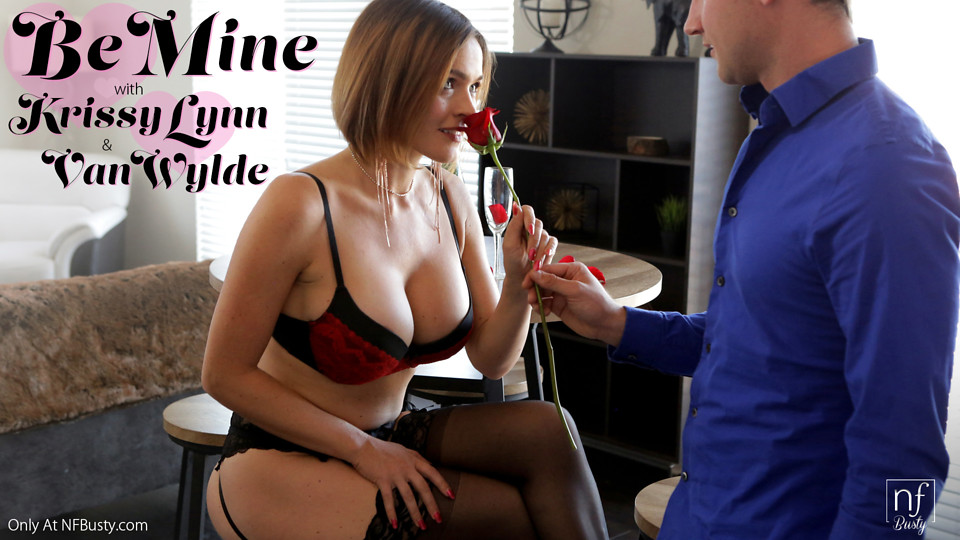 Leaning in, Van presses deep kisses to both knockers as he suckles each nipple to hardness. Then he continues down on his path south, settling between Krissy's thighs. He slides her thong to the side, takes a whiff of her musk, and then dives in. Van's pussy feast is long and languorous as he uses his talented tongue to explore every fold and crevasse. By the time he gets to his feet, Krissy is dripping wet and oh so ready to fuck.
Pulling out his hardon, Van positions himself at the entrance to Krissy's twat. He follows through with a slow push that penetrates Krissy slowly but surely. When he is finally seated to the hilt, he pulls his hips back and thrusts them forward in a sweet and sensual rhythm that entices Krissy to drop her head back in true pleasure. Reaching up, Van gives Krissy's big tit a hard squeeze that leaves her moaning long and loud.

Krissy loves the way Van fucks her, but she didn't set up this surprise just so she could enjoy his charms without returning the favor. She slithers off the stool and gets on her knees so that Van's hardon is at eye level. From there, it's easy to take him in hand and lean in for an enthusiastic BJ. Her sucking eventually transitions to a titty fuck as she takes Van's fuck stick between her big naturals.
Now that they've both had an intermission from fucking, they kick off the second act. Krissy begins on her feet with one thigh resting against Van's stomach as he pounds her snatch. Then she turns around to get an even hotter coupling from behind. As Krissy lets Van know with one last groan of delight that she has enjoyed one last climax, she lets him pull out and then gets back on her knees. That position is perfect for Van to blow his load all over her chest, leaving them both sated and satisfied.