Bigtit stunner Angel Princess has a surprise for Drzej Andilek, who has agreed to be blindfolded for a sexy surprise. Lifting her skirt, she lets Drzej caress the smoothness of her hip. Then she pulls her dress down to unveil the bounty of her big breasts. Sliding into Drzej's lap, Angel pulls his face forward to bury it between her breasts in a big boob motorboat. Drzej enjoys his time with Angel's soft pillows, but he's ready and raring to go when she pulls off the blindfold and guides him to the bedroom.
Curling up together in bed, the lovers enjoy mutual, gentle caresses. Angel enjoys the way Drzej fixates on her knockers, but she has so much more in store for her love than that. Leaning forward, she grasps his stiffie and draws it close. Opening her mouth, she starts sucking in long, measured pulls of her mouth. Gradually she pushes Drzej backwards until he is laying down in the perfect position for a titty fuck.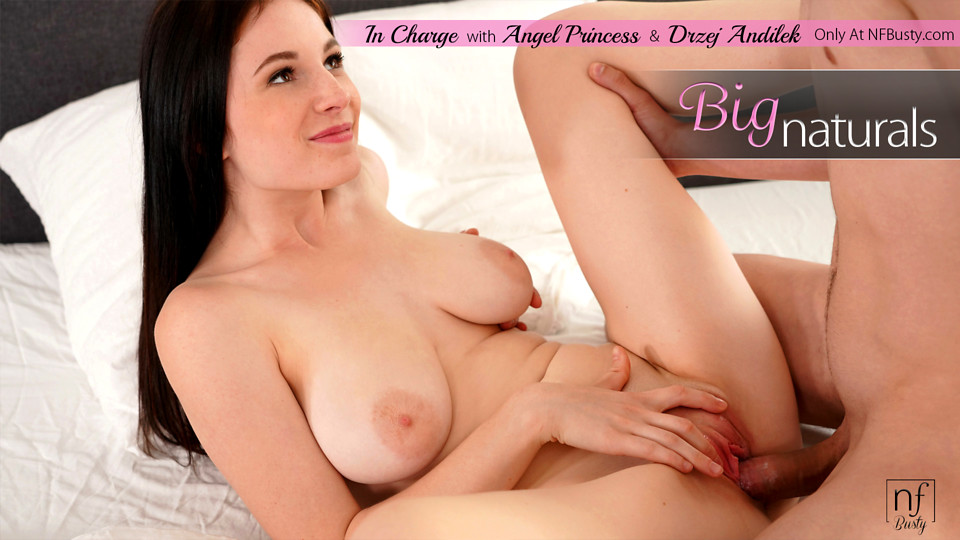 As Drzej is already laying there, Angel takes the opportunity to slide up his body until her cream filled pussy is within reach of his mouth. He takes the hint, hooking his arms beneath Angel's thighs and tugging her close until she's within easy reach of his tongue. Lapping slowly, Drzej takes his time exploring every one of Angel's soft folds. When he deems her nice and ready, his hands gently push her lower on his body until she is fully impaled on his fuck stick and ready to go for a stiffie ride.
Getting on her hands and knees, Angel moans in carnal delight as Drzej pushes two fingers inside while his tongue fondles her anus. Then he rises behind her and grabs her ass in each hand to anchor himself as he pushes himself balls deep. Her gasps of delight fill the room as Drzej thrusts hard and fast. When Angel falls to her side, Drzej follows her down to continue fucking her as they spoon together.
On her back with her hands kneading her breasts, Angel watches as Drjez continues to apply himself for her pleasure. One leg lifts over Drjez's shoulder as he works his hips until Angel enjoys another luxurious climax. Pulling out, he moves up his lover's body until she can once again wrap her hand around his dick and deliver a handjob that culminates in a shot of jizz right across her tits.