Charlie Red is reading and Max Dior is napping when Nikki Hill decides to step into the shower. Her hair is up, letting her freely hose down her hard nipples and creamy pussy. Since the shower stall is clear, it also gives Charlie quite a show. When Nikki steps out of the shower, she and Charlie decide to take the party to the bed so that Max can satisfy them both.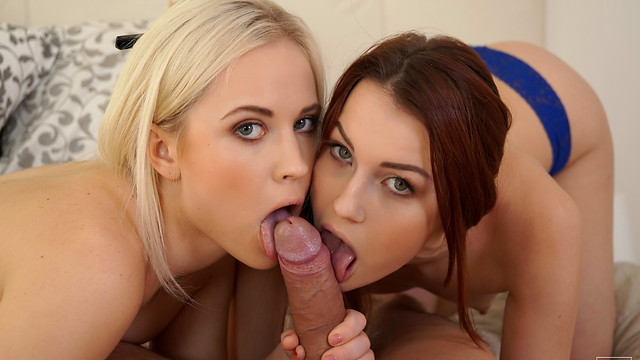 Opening his arms to indicate his willingness, Max accommodates both ladies with a big smile. Nikki drops her towel, while Charlie shrugs off her robe to reveal some nice blue lingerie. Her bra follows her robe to the bed, leaving her almost bare as she leans forward with Nikki to lap at Max's big dick. The girls share their BJ as Charlie loses her thong, joining her partners in total nudity.
Max is content for a while to let the girls blow him as he snakes his hands to each of their bottoms to feel the wetness of each of their twats. When Nikki gets on her knees with her mouth pressed to Charlie's Max takes the opportunity to sidle up behind her for a pussy feast. His tongue sweeps Niki from snatch to ass before he gets on his knees to slide home. Meanwhile, Nikki buries her face in Charlie's puss to eat her friend out.
Charlie gets to enjoy Max's D next when as she allows herself to be cradled in Nikki's arms. Max laps at her sweet juices, then slams himself home. Once Nikki has ensured that Charlie is in good hands, she gently disengages and repositions herself on top of Charlie's face. Pleased with their mutual ride, Nikki and Max exchange kisses over top of Charlie's prone body.

Laying down on the bed, Max pulls Nikki on top of him so she can sink down onto his hardon. Nikki leans forward to get forehead to forehead with Max in a moment of pure intimacy, then sits up so she can lean into Charlie. When the girls swap spots so that Charlie is on her knees before Max, Nikki sucks her own juices off of his fuck stick to clean him off so he can slam back into her girlfriend.
As Max reaches the pinnacle of his passion, Nikki urges him forward with soft hands on his balls and shaft. He pulls out of Charlie at the last moment, letting Nikki stroke him to the finish line so that he covers Charlie's ass in his love. Spooning behind Charlie, Niiki runs her fingers through Max's cum and drops sweet kisses on Charlie's lips.CLICK HERE FOR INSTANT ACCESS